ICAO audited Sri Lanka aviation security systems under the Universal Security Audit Programme Continuous Monitoring Approach (USAP - CMA) during period 8 May thru 18th 2023. Here, the implementation of standards in the Annex 17 – Aviation Security and the security related standards in Annex 09 – Facilitation together with the State capability on oversight of aviation security under 8 critical elements were subjected to careful and impartial evaluated by four member aviation security audit team, nominated in the hands of Secretary General to the ICAO.
11 full days of scrutiny on the aviation security systems had revealed that Sri Lanka is flying high in its performance.
At the concluding event, the post audit debriefing by the ICAO audit team leader – Mr. Aurelien Lavayssiere presenting its interim report declared that Sri Lanka has achieved 92% of the score.
The DGCA and the Appropriate Authority for aviation security Mr.  P A Jayakantha in his appointment as the National Coordinator for USAP audit Sri Lanka, speaking at this event noted that all that was made possible due to the commitment and dedication of the Aviation Security inspectorate together with the industry counterparts.
The Honorable Minister of Ports, Shipping and Aviation, Nimal Siripala de Silva (MP) was present throughout the post audit debriefing stated that the Sri Lanka is proud of  this achievement and shortcoming, if any,  will be corrected sooner than later, giving an immediate moral support to those involved in the auditing process.
Mr. G S Withanage, the Chairman, Mr. Damitha Narangoda the Vice – Chairman of the Civil Aviation Authority and the Chairman Airport and Aviation Services (Sri Lanka) (Private) Ltd., the licensed Aviation Security Service Provider too were present throughout the event.
The minister also noted that the ongoing developments and initiatives of the civil aviation projects and tourism will also be beneficiaries of this Sky High achievement, expanding the horizon of the aviation map and commercial aircraft transport operations too be escalated towards greater heights.
Image - 
Immediately after the audit results were announced, ICAO audit team together with Aviation security inspectorate of Sri Lanka posted for this photograph with the Honorable Minister of Ports, Shipping and Aviation Nimal Siripala de Silva (MP) and the National Coordinator, Director General of Civil Aviation & Chief Executive Officer Mr. P A Jayakantha.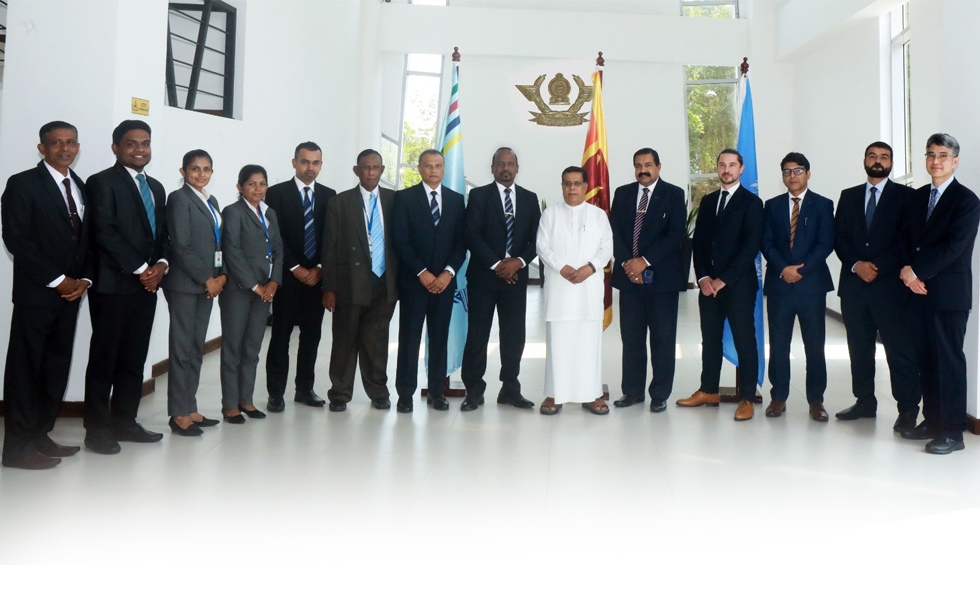 விவரங்கள்
SriLankan Catering Ltd was certified and license was issued recently by the Civil Aviation Authority of Sri Lanka (CAASL) to provide aviation catering service for all aircraft operations operating to Sri Lanka after fullfilling the all required regulatory requirements.
The Catering Service Providers License was handed over by Mr. G.S.Vithanage, Chairman of Civil Aviation & the Competency Certificate was handed over by Mr.P.A.Jayakantha, Director General and Chief Executive Officer of Civil Aviation (DGCA & CEO) to Mr. Mangala Wijesekara, Chief Executive Officer of SriLankan Catering Limited on 04th May 2023 at the Civil Aviation Authority of Sri Lanka.
The Application submitted by SriLankan Catering Limited was scrutinized by the Civil Aviation Inspectors of CAASL considering the organizational structure, capability, availability of qualified & well trained staff, required instruments/ equipment and other facilities & documents for the certification under the guidance of Mr. P. A. Jayakantha, the DGCA & CEO and the leadership of Mr. Saman Gunawerdena, Deputy Director General (Flight Safety Regulations) & Capt. Lushan Fernando, Director (Aircraft Operations) of the CAASL.
Senior officials of SriLankan Catering and CAASL were present for the award ceremony held at CAASL auditorium.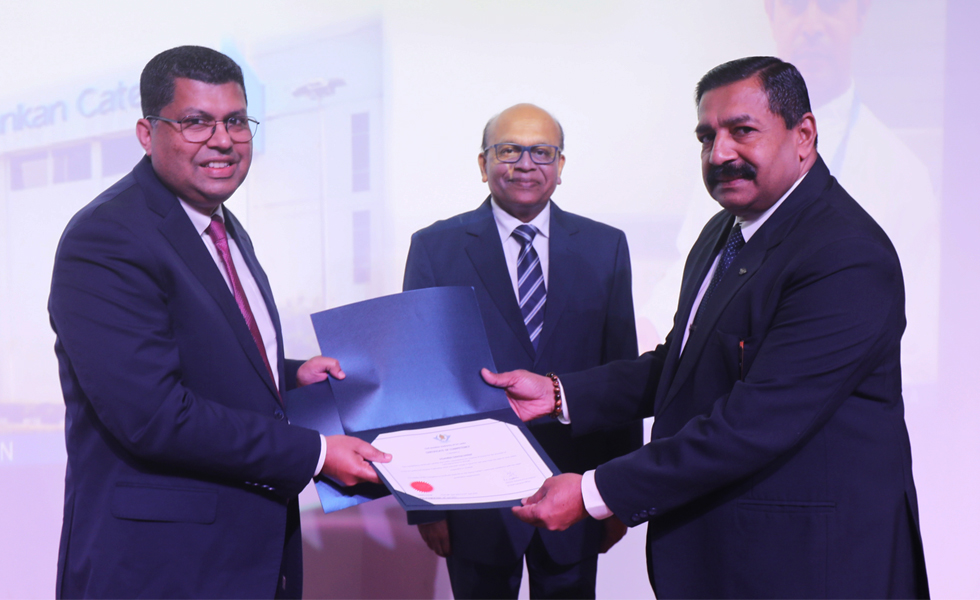 விவரங்கள்
Civil Aviation Authority of Sri Lanka has organized a Personnel Licensing (PEL) Initial Course in collaboration with COSCAP-SA in order to provide a proper training for personnel licensing, operations, and airworthiness inspectors to maintain uniform skills and knowledge to conduct specific safety oversight functions related to Personnel Licencing. The training commenced on the 20th of March, is conducted by an ICAO Chief Technical Advisor for Gulf States who is also an ICAO OPS/PEL expert Ms. Nadia Konzali with the participation of two Nepali Licencing officers. The training program would be concluded on the 7th of April which includes On-the-Job Training.
This 15-day course is designed for CAA licensing office staff such as: flight crew licensing operations inspectors, maintenance licensing inspectors, and licensing officers or administrative licensing staff. This course is intended for CAA's involved in developing or upgrading its own state licensing or PEL system. The course is intended to be taken as a group composed of personnel assigned to a CAA's PEL office. Participants are taught how to establish and maintain a CAA PEL office. Participants will be instructed on how to develop knowledge tests for a licensing system and how to ensure the test's validity. Participants will learn the licensing process from application to issuance of a license, in addition to procedures for validation or conversion of a foreign license and suspension or revocation of a license. Classroom exercises will provide practice in how to determine if an applicant is eligible for the license sought, and if the license applicant successfully completed the demonstrations required for a license. The course is based on the International Civil Aviation Organization (ICAO) Standards and Recommended Practices (SARPs), Model Civil Aviation Regulations (MCARs) and technical guidance.
The training was initiated and coordinated by the Director General of Civil Aviation & Chief Executive Officer, Mr. P. A. Jayakantha who was assisted with the formalities by Mr. Rayhan Wanniappa as the National coordinator for COSCAP-SA.
The course was arranged by COSCAP-SA on this request being open for the South Asian states for participation and such Personnel Licencing (PEL) course is done for the first time in Sri Lanka.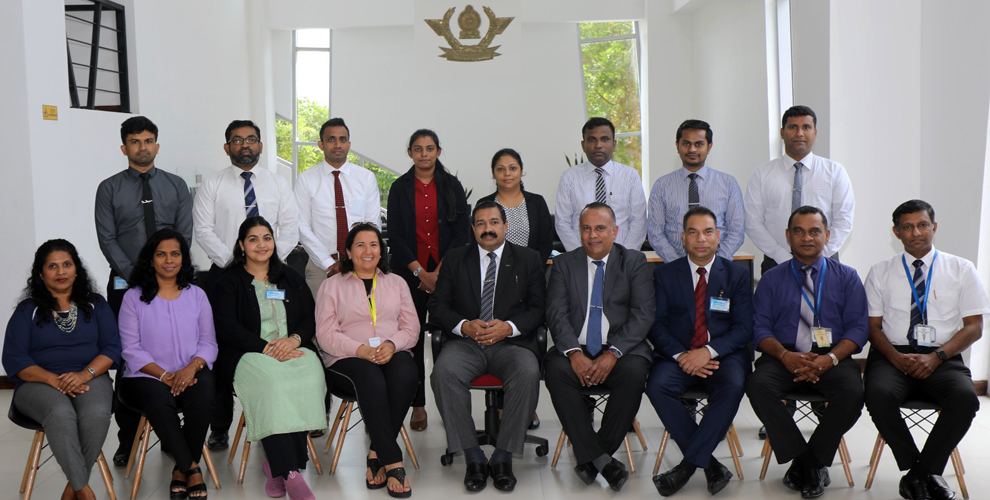 விவரங்கள்
We are delighted to announce that the International Air Transport Association (IATA) is set to boost its partnership with Sri Lanka's Civil Aviation Authority to drive key aviation initiatives forward. This exciting development follows a recent courtesy call on Mr. P. A. Jayakantha, Director General of Civil Aviation & Chief Executive Officer of the Civil Aviation Authority of Sri Lanka, by Mr. Azhar Azahari, Area Manager (South Asia) for IATA.
During the meeting, the IATA team outlined their upcoming plans for promoting aviation safety, industry affairs, sustainability, and digitalisation in Sri Lanka. The DGCA warmly welcomed these planned activities and even suggested that IATA provide training opportunities to the Sri Lanka aviation industry. The IATA Representatives expressed great interest in the suggestion and have agreed to explore it further.
Mr. Rayhan Wanniappa, Acting Deputy Director General (Corporate Management), Mr. Ishara Gunawardana, Manager (Air Services & Traffic Rights) of CAASL, and Mr. Buddika Hewawasam, Country Manager-Sri Lanka of IATA were also present at the meeting, emphasising the importance of collaboration and cooperation in driving forward Sri Lanka's aviation industry.
We look forward to working closely with IATA to deliver on these exciting plans and to further strengthen Sri Lanka's aviation sector. Stay tuned for further updates!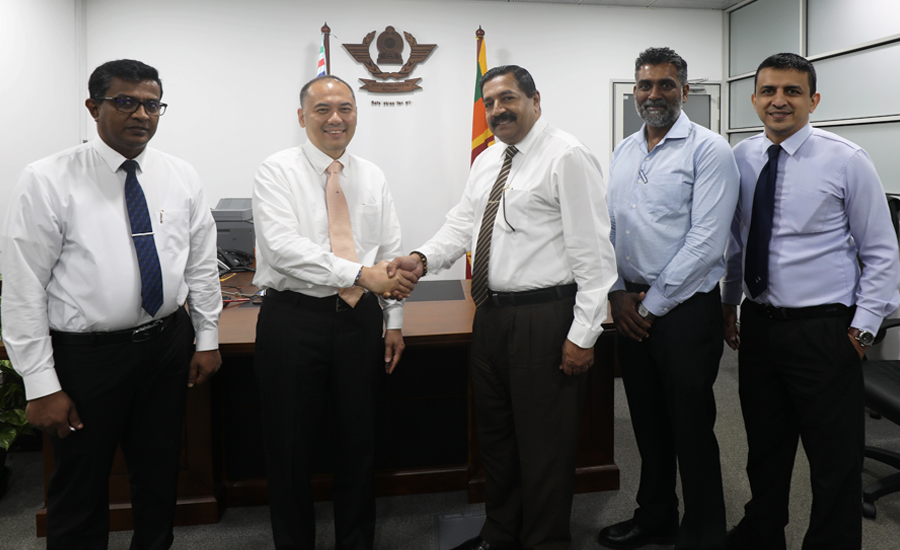 விவரங்கள்
H.E. (Mrs.) Rita Giuliana Mannella, The Ambassador of Italy, made a courtesy call on Mr. P. A. Jayakantha, the Director General of Civil Aviation & Chief Executive Officer recently at the CAASL to discuss matters of mutual interest for the Aviation Industries of Italy and Sri Lanka.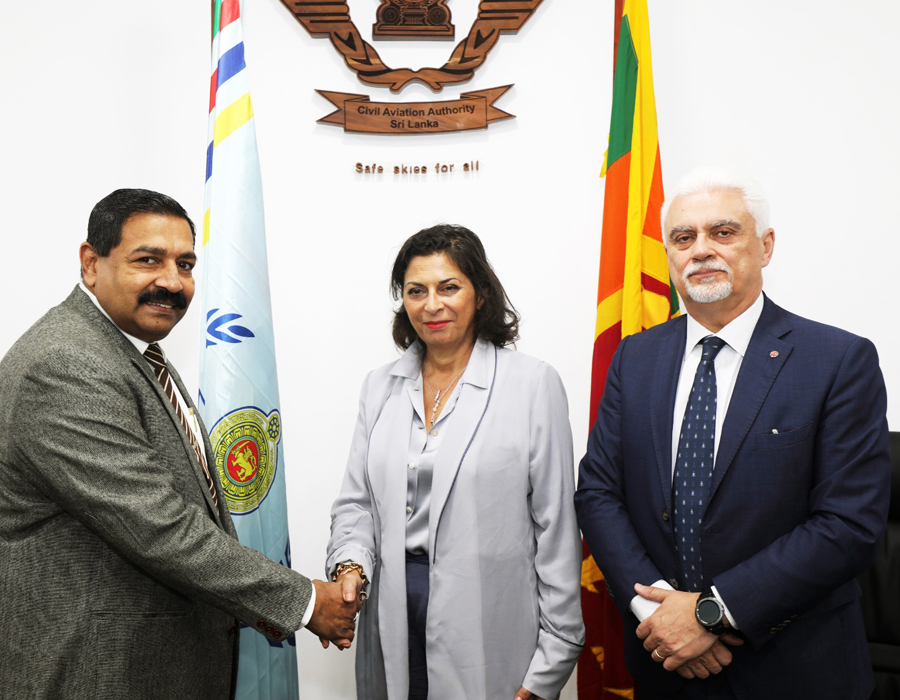 விவரங்கள்